It's no secret that I'm in love with blue and white. I fell in love with it when I got my first Ginger Jar at the swapmeet a few years ago. I had told myself I was going to start a collection several years ago, but something happened (not quite sure what, life probably) and it just got put on the back burner.
I had been trying to figure out what and how (design wise)
I was going to spruce up my outdoor areas.
One day I was browsing IG when I came across the blog Eleven Gables...
talk about a gorgeous home, she is a woman after my own heart.
But what got me really going, was her gorgeous blue and white patio planters on her front porch.
Photo: Eleven Gables
I looked around for a few weeks, and everyplace I found online and local, blue and white were outrageous especially for the size I wanted.
The ones I originally wanted were these from Front Gate...
But at $299 each, it just wasn't feasible for this farmhouse... we're fancy, but not that fancy....
But Needless to say, they are my dream pot!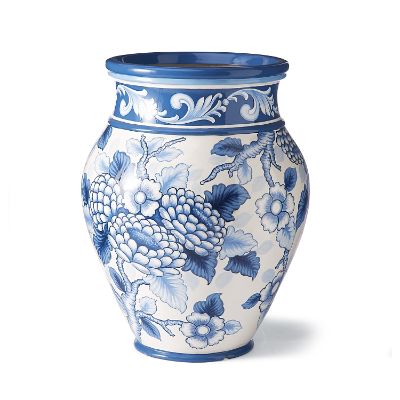 http://bit.ly/2qMi2uq
So I went to Statuary World and found two that were the same shape but different patterns...
I'm definetly going to be adding to my collection now,
and I for sure want to get some for the back patio,
I rounded up some of
* Affiliate Links, Please see full disclosure policy*
I got mine for around $150 a piece, so pretty much two for the price of one at Front Gate.
I was a little heart broken they weren't as Chinoiserie as I would have liked them to be... I feel like mine look a bit more southwest... my mom assured me they didn't, but it loos like there's an effing cactus on one..so you know...whatever... but I'm trying to convince myself it's a
Japanese
Sunrise...
But I'm not that hung up on it...
So here's mine...
"Same Same but different"
I planted white Impatients in them, because it's about the only thing I can get to grow on this patio. It faces North and really never gets sun.
I also trimmed back the IVY and removed quite a bit from the doorway area, I'm going to have my husband (when he gets home) power wash all those little sticky pods that hold the ivy on....YUCK...
I'm looking for some new cushions and pillows for the little sofa, I'm going to def coordinate with the blue and white, but I'm not sure what print...maybe a stripe...
I'm making good progress, it's slow at time, but I keep telling myself, it's not a race and you have a long ways to go....enjoy it, cause life goes by way too fast...
Thanks for stopping by!